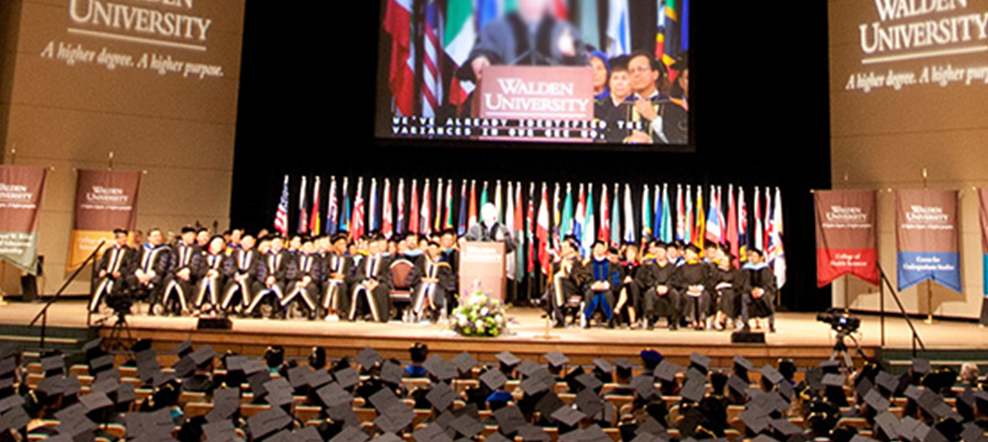 O desconhecido não é um obstáculo. Na verdade, é um começo. É um desafio. E é o que buscamos na Laureate. Todos os dias, nós estamos dispostos a repensar a respeito da educação. Para desafiar as expectativas. Para reinventar carreiras. Para crescer além dos limites. O que você não sabe?
Field Education Coordinator - Social Work (Virtual)
---
Candidatar-se
Empregos ID 51915BR
Publicado 07/15/2021
Instituição Walden University
Cidade Virtual
Walden University offers advanced degrees online to professionals whose work impacts others. Degree programs include health sciences, counseling, human services, management, psychology, education, public health, nursing, public administration, technology, and engineering. Our challenging programs are designed to help students make a difference in the lives of children, the health of communities, or the success of an organization.

The field coordinator is a full-time staff member for the MSW program. The field coordinator works closely with the students to process field applications to ensure that all necessary paperwork and approvals are completed before a student enters field placement.The field coordinator reports to the field director; works with students in identifying appropriate field placements; is responsible for managing students' field placement site and site supervisor selection with approval from the field director; and, completes the administrative duties of the field placement office for the MSW program. The field coordinator also collaborates with the field director and interfaces with Walden's field placement office, which includes providing routine reporting and data collection.

The field coordinator provides support in the following areas:
1.Managing and implementing the field application process.
2.Responding to student questions about the field placement.
3.Supporting students with locating field sites.
4.Reviewing and approving with the field director student field applications each quarter.
5.Serving as the designee of the field director, as needed.
6.Responding to students, site supervisors, and agency directors' questions about the field placement.
7.Troubleshooting with the field director, field instructors and liaisons student problems that emerge at field placement sites.
8.Educating students, directors of sites, and site supervisors about field policies and expectations.
9.Working with the field director to facilitate orientations for students and site supervisors.
10.Serving as university liaison and representative around field placement inquiries from internal and external stakeholders.
11.Collaborating with the Central Office of Field Placement (COFE) on affiliation agreements and field-related legal needs.
12.Managing the field evaluation process.
13.Other duties, as assigned.
EDUCATION and/or EXPERIENCE

MSW from a Council on Social Work Education (CSWE) accredited program required.

Minimum of 2 years post-MSW experience required

Social Work license preferred.

Experience in social work education preferred.

Excellent analytical, problem solving, written and verbal communication, detail-oriented, multitasking, and organizational skills.

Excellent time management skills with an ability to set and meet deadlines.

Creative, innovative, and strategic thinking as well as the ability to work independently and with faculty and graduate students at a distance.

Ability to anticipate future trends and problems and plan for them accordingly.

Demonstrate proficiency in operating Microsoft Office including Word, Excel, Outlook and PowerPoint.
Ability to learn Walden's administrative database.
Oportunidades Iguais de Emprego
Nosso objetivo é ter um time de colaboradores diversificado que represente nossos estudantes e comunidades. A Walden University é uma empregadora que traz oportunidades iguais, comprometida com a contratação com base no mérito. Os indivíduos são considerados para cargos para os quais cumpram as qualificações necessárias e que sejam capazes de desenvolver em nossa Universidade. Não discriminamos com base em sexo, raça, cor, religião, idade, nacionalidade, deficiência física ou mental, gravidez, informação genética, orientação sexual, identidade ou expressão de gênero, condição de veterano ou qualquer outra condição protegida pelo governo federal, estadual ou local. De acordo com o Título IX das Emendas de Educação de 1972, a Walden University é obrigada a não discriminar com base no sexo em seus programas ou atividades educacionais, e não o faz. Essa proibição se estende a admissões e empregos. Para obter mais informações sobre a política do Título IX da Walden University, incluindo a aplicação do mesmo, clique aqui.
Candidatar-se