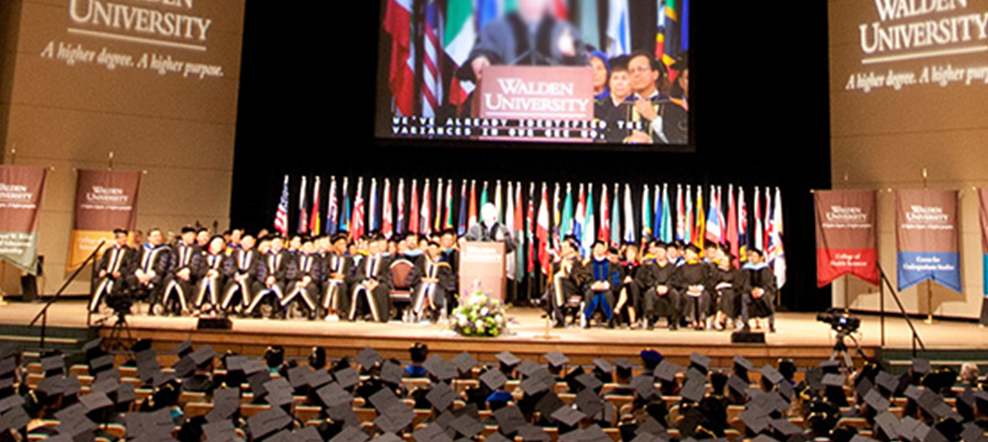 O desconhecido não é um obstáculo. Na verdade, é um começo. É um desafio. E é o que buscamos na Laureate. Todos os dias, nós estamos dispostos a repensar a respeito da educação. Para desafiar as expectativas. Para reinventar carreiras. Para crescer além dos limites. O que você não sabe?
Faculty, Contributing – Ph.D. Social Work and DSW (Virtual)
---
Candidatar-se
Empregos ID 49975BR
Publicado 11/12/2020
Instituição Walden University
Cidade Virtual
Faculty, Contributing – Ph.D. Social Work and DSW
Walden University is an accredited institution that has been serving the higher education needs of professionals for more than 40 years. Offered online, Walden's doctoral, master's, and bachelor's degree programs are designed to help students achieve their goals so that, as graduates, they can help advance the lives of others.
Walden continues its tradition of quality as it grows. The Babara SolomonSchool of Social Work and Human Services seeks faculty members for the Ph.D. in Social Work and the Doctor of Social Work programs to commit to contributing faculty positions. This is an opportunity for candidates to share their professional experience and academic knowledge, particularly in the areas of research mentoring, with students across the country and around the world. With a computer and a high-speed Internet connection, the faculty member can teach on his or her own schedule while maintaining other professional and personal commitments.
GENERAL SUMMARY
Walden University seeks a dynamic, innovative faculty member for this contributing (part-time) position in the Ph.D. in Social Work and the DSW programs. Key responsibilities of this position include mentoring student research and teaching courses..
What to Expect as a Walden Faculty Member
Faculty members educate Walden University students by effectively and proficiently using online technology and resources so that knowledge, information, feedback, and critique are imparted to and shared with students in thoughtful, carefully formulated, well written, and timely communications. This is accomplished in an environment that is respectful of the student, the faculty member, Walden University, and the discipline in which the faculty member is involved.
Course Teaching/Availability
Faculty members are assigned content courses, which are taught using the Blackboard platform, and are responsible for interacting with students within the LMS. Discussion Boards for classrooms are open 24 hours per day, 7 days per week
The university suggests regular and predictable availability, such as online office hours or regular online chats; office hours may be required based on program or college policy. For PhD dissertation and DSW capstone project courses, which are also taught using the Blackboard platform, faculty members who serve as chairs of the doctoral committees are expected to be in the classroom a minimum of once a week, responding to their doctoral mentees in a substantive manner.
Research Mentorship
Faculty mentors may be assigned to work one-on-one with students to help students meet the research requirements of their degree. Faculty members are responsible for the provision of timely feedback, approval, assessment, and evaluation of each student's work within the classroom.
Residencies
Graduate-level faculty may be invited to attend Residencies held domestically or internationally, where they will teach face-to-face intensives and colloquia, and facilitate school and university-wide discussions. Contributing (part-time) faculty may be invited to participate but are not required to attend. Tools/Technical Skills
To perform this job successfully, an individual must be able to perform each essential duty satisfactorily. The requirements listed are representative of the knowledge, skill, and/or ability required. Incumbents will be evaluated, in part, based on performance of each essential function. Reasonable accommodations may be made to enable individuals with disabilities to perform essential functions.
Licensing/Certification
Faculty members must be appropriately credentialed, possess an earned degree from an accredited institution or an institution that is recognized by a country's ministry of education in the discipline being taught, and may be expected to be licensed or license-eligible in order to teach in specific programs. Faculty members must maintain their licenses and any appropriate certifications in order to continue to teach at Walden University. Faculty members are also expected to maintain currency with research by reviewing articles, journals, and presentations. If participating in research, the faculty member may publish and acknowledge Walden University.
Travel
Contributing faculty members may have the opportunity to travel to university events and residencies. When traveling to these events, the faculty member will be expected to fully participate in the event. For core faculty, there will be required travel throughout the year.
EDUCATION and EXPERIENCE
The successful candidate will have:
An earned Ph.D. or DSW from an accredited university in Social Work.
Experience sitting on/chairing dissertation committees
Possess a significant record of academic (i.e., publications, presentations) and/or professional contributions to the field of study.
A minimum of 3 years of teaching experience at the degree level of the program and one year of online teaching experience is preferred
A commitment to supporting student success in a diverse population of adult learners.
Have a commitment to the social change mission of Walden University.
Experience with an on-line learning platform and leveraging technology in learning (required). Proficiency with SPSS for quantitative faculty and/or NVivo for qualitative faculty, preferred.
Experience in quantitative or qualitative research methodologies.
Be expected to perform other duties and responsibilities that management may deem necessary from time to time.
Technology Requirements
Faculty members are expected to have a personal computer with virus protection and Internet access. Walden University provides a Walden e-mail account and access to the learning platform, password-protected faculty sections of the website, university and college listservs, and other faculty communications tools.
About Walden University:
For more than 45 years, Walden University has served the higher education needs of working professionals. More than 47,000 students from all 50 U.S. states and more than 150 countries pursue their doctoral, master's or bachelor's degrees online in a variety of fields, including: Business and Management, Criminal Justice and Emergency Management, Information Technology, Education, and Nursing. As part of the Laureate International Universities network, you'll be able to touch lives in your community and change the world of education.
Oportunidades Iguais de Emprego
Nosso objetivo é ter um time de colaboradores diversificado que represente nossos estudantes e comunidades. A Walden University é uma empregadora que traz oportunidades iguais, comprometida com a contratação com base no mérito. Os indivíduos são considerados para cargos para os quais cumpram as qualificações necessárias e que sejam capazes de desenvolver em nossa Universidade. Não discriminamos com base em sexo, raça, cor, religião, idade, nacionalidade, deficiência física ou mental, gravidez, informação genética, orientação sexual, identidade ou expressão de gênero, condição de veterano ou qualquer outra condição protegida pelo governo federal, estadual ou local. De acordo com o Título IX das Emendas de Educação de 1972, a Walden University é obrigada a não discriminar com base no sexo em seus programas ou atividades educacionais, e não o faz. Essa proibição se estende a admissões e empregos. Para obter mais informações sobre a política do Título IX da Walden University, incluindo a aplicação do mesmo, clique aqui.
Candidatar-se