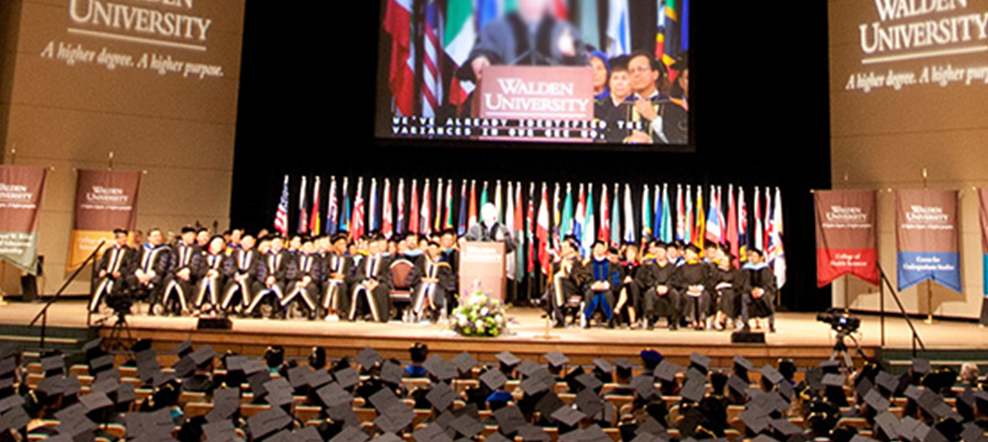 O desconhecido não é um obstáculo. Na verdade, é um começo. É um desafio. E é o que buscamos na Laureate. Todos os dias, nós estamos dispostos a repensar a respeito da educação. Para desafiar as expectativas. Para reinventar carreiras. Para crescer além dos limites. O que você não sabe?
Associate Dean - College of Nursing (Virtual)
---
Candidatar-se
Empregos ID 49887BR
Publicado 11/06/2020
Instituição Walden University
Cidade Virtual
The College of Nursing provides educational programs based in the scholar-practitioner model dedicated to improve the human experience within a global community. Graduates demonstrate critical thinking, acquire a competent knowledge of the content and methods of their discipline, and exhibit the highest ethical standards of their profession.
Walden University seeks an Associate Dean for the College of Nursing. This Associate Dean is a full-time academic administrator who reports to the Dean of the College of Nursing and works closely with the College's program directors, administrative staff, and faculty. This position has leadership responsibility for the coordination of Field Experience activities and all level programs for curriculum design, implementation, evaluation, and outcomes. The position requires the ability to foster the success of teams and individuals in a distributed, virtual environment and an ability to foster change in self and in faculty, staff and students.
Walden is seeking an Associate Dean who is excited, forward thinking about the future of nursing and has an interest in personal career advancement. The person filling this position will need strong leadership skills, flexibility, creative problem-solving skills and a strong commitment to the profession.
ROLE AND RESPONSIBILITIES:
Provision of academic leadership in collaboration with Program Directors, Director of Compliance, Director of Regulatory, Director of FEC and Director of Community Placements coordinators and students for the School of Nursing.

Provides leadership and coordinates projects, processes and procedures to enable student practicum clinical learning experience for the experiential learning attainment of outcomes for professional nursing practice are sufficient.

Assists in hiring, assigning work, and developing employees and responds quickly and effectively to changing business situations and demands and acts in a way that earns the trust of others.

Engages in faculty recruitment, orientation, development, mentoring, and evaluation processes. Understands that the company's workforce is a source of competitive advantage and that organizational health is paramount for long-term sustainable success.

Develops and maintains community amongst faculty and students.

Collaborates with program directors, coordinators, and field experience personnel of student and faculty scheduling for all degree programs for all enrollment starts.

Engages with Program Directors for resolution of student and faculty issues and facilitates outcomes.

Engages in the teaching of course(s) each quarter as assigned by the Dean.

Offers original solutions to solve problems or develop opportunities. Shows a drive for and works with a focus on continuous improvement. Develops and shares best practices.

Monitors the quality and integrity of the Nursing programs' curriculum reflective of CCNE standards and program outcomes (retention, graduation, and certification) to ensure alignment where applicable as well as the University and College goals and program mission.

Engagement in accreditation activities in addition to internal reviews as Academic Program Review.

Collaboration with all internal and external service units, health care practicum representatives and other partners to the College of Nursing.

Coordinates the programmatic accreditation standards and processes for the nursing programs

Provides oversight and guidance to the student development and evaluation process for programs with the appropriate personnel.

Oversees student success and academic progress efforts in the school.

Engages in the School Curriculum and Academic Policy Committee and other committees, summits as needed

Provides leadership for faculty and students to engage in College, University and professional/community service and scholarship

May perform other duties and responsibilities that management may deem necessary from time to time.
Travel Requirements: travel required (minimally once per quarter)

EDUCATION and/or EXPERIENCE:
Earned doctorate in an area of Nursing or Health Related profession with a Master's in Nursing required from an accredited institution. Specialty area related to the College's degree programs preferred.

Holds an active RN license in good standing.

Five years' experience with leadership in academic program/s Baccalaureate and Higher Education in areas of teaching, advising, mentoring, scholarship and professional service. Distance learning/online experience preferred

Knowledge of and experience with programmatic accreditation (CCNE preferred).

Experience in project management with evidence of successful coordination and execution of projects and field experience learning requirements.

Experience in facilitating faculty/staff development.

Commitment to the promotion, recruitment and development of a diverse faculty.

Significant record of intellectual and professional contributions to the field of nursing.

Commitment to advocating for and experience working with students earning their degrees in a distance learning environment including students who are experienced mid-career professionals.

Experience in chairing or serving on dissertation and/or DNP scholarly projects.

Strong interpersonal skills and client-facing communication skills.

Excellent leadership, communication, team, and human relations skills.

Thrives in a team-oriented environment that emphasizes collaboration and personal accountability.

Evidence of compatibility with the Walden University mission of positive social change, broad access and professional excellence and our values of quality, integrity and student-centeredness.

Excellent oral and written communication skills and the necessary characteristics to work with a strong administration team to assure the continued success of a growing School of Nursing.
Oportunidades Iguais de Emprego
Nosso objetivo é ter um time de colaboradores diversificado que represente nossos estudantes e comunidades. A Walden University é uma empregadora que traz oportunidades iguais, comprometida com a contratação com base no mérito. Os indivíduos são considerados para cargos para os quais cumpram as qualificações necessárias e que sejam capazes de desenvolver em nossa Universidade. Não discriminamos com base em sexo, raça, cor, religião, idade, nacionalidade, deficiência física ou mental, gravidez, informação genética, orientação sexual, identidade ou expressão de gênero, condição de veterano ou qualquer outra condição protegida pelo governo federal, estadual ou local. De acordo com o Título IX das Emendas de Educação de 1972, a Walden University é obrigada a não discriminar com base no sexo em seus programas ou atividades educacionais, e não o faz. Essa proibição se estende a admissões e empregos. Para obter mais informações sobre a política do Título IX da Walden University, incluindo a aplicação do mesmo, clique aqui.
Candidatar-se